ALL OF MY VIDEOS HERE ON YOUTUBE:
I have so many videos now going back years, but this page has some of my current favorites:
INSPIRATIONAL QUOTES WITH MUSIC: 
TERRIBLY HAPPY
This is my most popular song, co-written with Michael Sullivan and Risa Faith. This video was totally spontaneous at a retreat.

MESSAGE TO ME (Sort Of The Story Of My Life)

DON'T STOP PLAYING (SHARK BITE VERSION)
The first video using actual tracks from my album is up on youtube, it's Don't Stop Playing, and it contains actual footage of me being bit by a shark, it was filmed in the Bahamas a few years back.
If you look at the video where I am feeding the sharks at exactly 1:45 at the lyric "and since I'm named HAPPY" this little thing appears on the middle of the screen pointing out the exact moment one of them took a bite out of the Happyman, fortunately I was wearing wire protection so it didn't really hurt, I was actually every exciting and you can see me looking right into the camera thinking "YEEAHHH I GOT BIT BY A SHARK!!!!!!!!!!!!"
I hope you all won't all think less of me, but there were moments when surrounded but 25 or so man-sized sharks that were all trying to get to my food where I experienced ACTUAL UNHAPPPINESS! Yes it's true. I dealt with it by making up a mantra, I would look at them and say (you can see me pointing my fingers at them) "Don't Eat The Happyman" and "I'm gonna eat your brother!" (you can see me saying this right in the camera where the vocal goes "so shake that but" right at the end) I of course had to fulfill that promise so I that night I searched all over the Bahamas for a place that had Shark Fin Soup. Man that was some tasty soup.
I am now the shark.
PITTER PATTER:
HAPPYRON'S FIRST VIDEO: 
HappyRon "Not since the making of my album with 22 great San Diego Musicians have I been so honored by having so many talented people work on a project."
Directed by Richard Pollard
Post-Production by Tim Flack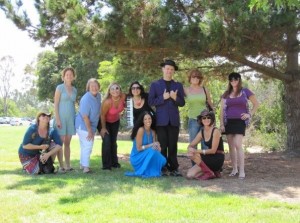 PIC CREDIT GROUP SHOT
Photo by Richard Pollard
LEFT TO RIGHT:
Cathryn Beeks AKA "Catastic Beats" cathrynbeeks.com
Laura Kuebel AKA Laura Fab www.laurakuebel.com
Elizabeth Abbott AKA Tipsi Holiday http://www.sandiegotroubadour.com/
Marcia Claire AKA MC Bassalicious www.myspace.com/marciaclaire
Marie Haddad. AKA "The Marrying Type" www.myspace.com/mariehaddad
Alyssa Jacey AKA Alyssa Jacey Blue!! www.alyssajacey.com
Brooke Mackintosh AKA Brooklyn!! www.reverbnation.com/brooklynmack
Nancy McCartney Mestyanek AKA Sister Linkun /www.myspace.com/foldingmisterlincoln
Jenene Lambert AKA Neener www.myspace.com/neenersplace2
MAKING OF VIDEO:

PRETTY ON THE INSIDE
GUEST STARING IN :
CHRISTOPHER DALES AMAZING "WAITRESS VIDEO"